This Male Personal Trainer Has a Better Skincare Regimen Than We Do
DESCARGO DE RESPONSABILIDAD
Este blog no ha sido aprobado por su departamento de salud local y no pretende proporcionar diagnóstico, tratamiento o consejo médico. Leer más

Este blog no ha sido aprobado por su departamento de salud local y no pretende proporcionar diagnóstico, tratamiento o consejo médico. El contenido que se ofrece en este blog es únicamente de carácter informativo. Consulte con un médico u otro profesional de la salud sobre cualquier diagnóstico u opción de tratamiento médico relacionado con su salud. La información de este blog no se debe considerar como un sustituto del asesoramiento por parte de un profesional de la salud. Las afirmaciones hechas sobre determinados productos a lo largo de este blog no han sido aprobadas para diagnosticar, tratar, curar o prevenir enfermedades.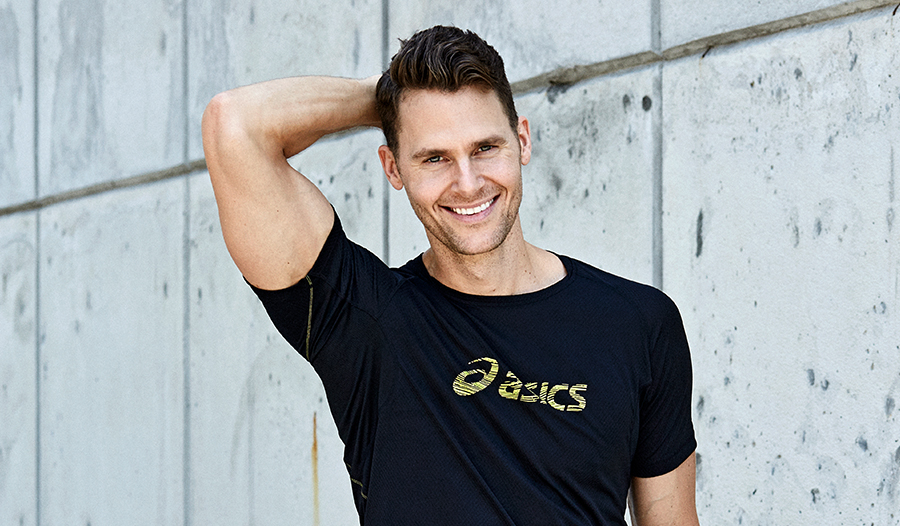 By Joey Thurman
Joey Thurman is in the business of helping other people look good. This health, fitness, and nutrition guru helps celebrities and busy executives get fit and eat better, so he has to put his best face forward every day. Plus, with frequent appearances on television shows like Good Morning America and Live with Kelly and Ryan, he needs a skincare routine that gets him ready for both the gym and the camera.
We talked to Joey about his favorite products, his daily routine, and how his habits have changed over time. And we have to admit—his regimen puts ours to shame.
What's Your Daytime Skincare Routine?
My day starts around 4:30am when I roll out of a bed and get ready to throw on a hat, my workout/work clothes, and socks. From there, I brush my teeth and start my quick skin routine. Most mornings I turn on the hot water and use an oil-free charcoal face soap followed by Image Skincare Prevention+ Daily Tinted Moisturizer, a dark circle under-eye roller, and I'm out the door!
During the day, I get my workout in and usually shower at the gym afterwards. Then, I essentially repeat my morning routine with the soap and moisturizer and of course use a paraben-free coconut body moisturizer to smell like the tropics!
Now, what I have found to be a lifesaver when I don't have time to shower is the makeup removing/face cleansing wipes and a quick "dude shower," which I'll follow with an orange citrus toner spray that I keep in my gym bag. And of course, I use an aluminum-free deodorant that has a touch of vanilla or charcoal.
We're Afraid to Ask: What's a "Dude Shower?"
Ha! So, sometimes I don't have time to get in the actual shower. Instead, I'll just wash my hands, throw some water on my pits, add deodorant, and put on some nice smelling moisturizer.
What Do You Do for Your Skin at Night?
When I get ready for bed, I generally wash my face, use Image Skincare Vital C Hydrating Repair Creme, and an under-eye roller for wrinkles. Then I'll use Image Skincare Vital C Hydrating Eye Recovery Gel if I'm getting ready to go on TV the next day or want to look fresh!
You Use a Lot of Image Skincare Products. How Did You Discover the Brand?
I got a facial once and they used their products—I was hooked!
How Often Do You Get Facials?
I used to get a monthly facial but since the birth of my son, I can't seem to justify that cost so I needed to find other solutions. I found a red clay mask and a light facial peel thingy—yes, I said thingy, I'm a dude! I use these 1-3 times each month and wait until my son is in bed because I don't want to scare him. Sometimes I hop in our steam shower and crank the heat up and use an exfoliant scrub and scrape all of the gunk and white heads off of my face. After I do that, I slather straight coconut oil on my face so that my skin can soak up all of the goodness!
Every now and then I still pull "gross boy" behavior and skip showering, cleaning my face, and yes… once in a while even skip brushing my teeth—like I said, gross! But most of the time, I follow this routine. As a personal trainer and former athlete, I sweat a lot, and need to make sure my look is on point!
How Does Your Diet and Lifestyle Impact Your Skin?
My diet is huge! I drink a lot of spring water or purified water—at least a gallon per day. Our bodies get dehydrated and we need to maintain a healthy aqueous matrix, and our cells need to drink up! Healthy cells=healthy skin.
As far as food, I don't have added sugars and eat primarily a plant-based diet with eggs, chicken, and some other "traditional" sources of protein. I make sure to have lots of greens, salads, smoothies, berries and apples.
How Have Your Product Habits Changed Over Time?
Once upon a time when I was a single man, I started to date the woman who would later become my wife. Whenever she came over to my apartment, she would use my master bathroom. One day she came out and asked, "Why do you have so many beauty products?!" My answer was so that I could simply be "man pretty." I think at the time she thought I was trying to hide the fact that they were products left over from past lady friends of mine, but she soon realized that I was just a man who loved his products!
Now it's 12 years later and admittedly, my skin routine has changed from using dozens of products to a select few. And as I've gotten older, I've started to notice that if I'm tired or not, I can see it on my face. Then I need to add a little extra product that morning. Or more makeup if I'm going to be on TV.
What We Learned from Joey
That personal trainer you see at the gym, showing a client the best exercises for their fitness goals? They probably did more to get their skin ready for the day than you did. Between dealing with sweat and presenting a vision of total health, the job demands taking care of yourself inside and out.
Gross boy behavior aside, Joey's regimen is a good reminder that—along with using the right products—consistency is the key to healthy skin.