Natural Glam Holiday Makeup Look
DESCARGO DE RESPONSABILIDAD
Este blog no ha sido aprobado por su departamento de salud local y no pretende proporcionar diagnóstico, tratamiento o consejo médico. Leer más

Este blog no ha sido aprobado por su departamento de salud local y no pretende proporcionar diagnóstico, tratamiento o consejo médico. El contenido que se ofrece en este blog es únicamente de carácter informativo. Consulte con un médico u otro profesional de la salud sobre cualquier diagnóstico u opción de tratamiento médico relacionado con su salud. La información de este blog no se debe considerar como un sustituto del asesoramiento por parte de un profesional de la salud. Las afirmaciones hechas sobre determinados productos a lo largo de este blog no han sido aprobadas para diagnosticar, tratar, curar o prevenir enfermedades.
En este artículo: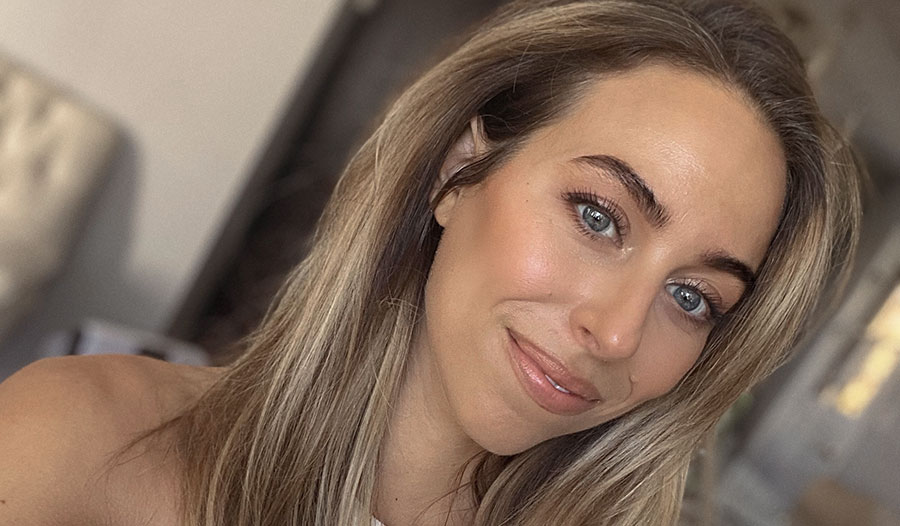 The holiday season is back and what a fun time of year it is! Holiday parties are upon us, there's shopping to get done, presents to wrap, dinners to attend, relationships to reflect on and reconnect with, and friends and family to see, so when it comes to getting ready, I want to feel and look my absolute best. I want the getting ready process to be fun, efficient, and easy, all while still having a look that delivers some holiday dazzle.
For the past two years, I have mostly opted for a makeup-free face, so I figured this holiday is the perfect time to get dolled up and ready to rock a natural, glossy look with just a little less glitz but still a nice touch of glam.
Some folks may feel overwhelmed or scattered when trying to decide on their makeup look for the holidays, therefore I'm here to walk you through an easy, glowing "no-makeup" makeup look that you can customize and make your own using only a few products that won't break the bank. I always advise you to start off soft and then add more as you please. Whether feeling your best translates to minimal, natural makeup or heavier, sparkly glam, here's a guide to help you glow all out and cover your bases.
Step 1: Skin Prep
The first step is to prep the skin. I like to focus on hydrating and plumping the skin. I like setting at least five extra minutes aside to give myself a facial massage to prep my skin with a good and buttery moisturizer. Facial massage helps to increase circulation, lift your face, help the serum and/or moisturizer absorb better, and overall give your skin an appearance of a more youthful and younger glow. Plus, it feels great! Sometimes I'll even throw an ice roller into the mix if I'm feeling fancy—or puffy.
A hot tip is to exfoliate two nights prior to ensure your skin is smooth and ready to go.
Step 2: Foundation
Next, apply your foundation or tinted moisturizer. You can apply this with a damp beauty sponge or a kabuki brush. I like to use a tiny brush for the smaller areas around the eyes and nose and ensure to blend it all out properly so there are no lines and everything is evenly applied.
Step 3: Conceal
Who doesn't love some concealer to hide a blemish, cover up any dark circles, and warm up the face? I like to apply a small amount of concealer under my eyes and into the corner, blending it onto my upper lids and onto any blemishes or dark marks on my face. I then press in the product using a damp blender to bounce the product in place after I swipe it on.
I rotate between a few different concealers but the Pro Conceal HD Concealer from L.A. Girl is great for fuller coverage, yet not too caked or overdone. Its consistency is creamy yet lightweight. It comes in a squeeze tube and a small amount goes a long way.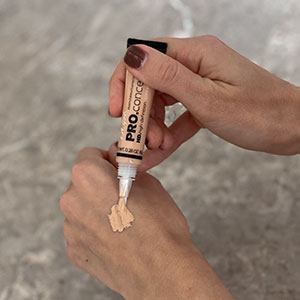 Step 4: Brows
Next up is brows. I like to use an eyebrow pencil that is a tad bit darker than my natural brow hair. I start by using a pencil beginning with the middle section and gently working my way outwards using tiny hair-like strokes to create definition. If I need to touch up or fill in any brow hairs in the front of the brow, I do that last.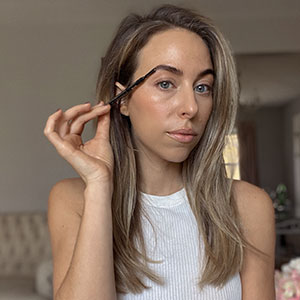 L.A. Girl's Shady Slim Brow Pencil is the perfect product for getting fuller sculpted brows. It is a retractable pencil that has a very tiny tip to help create natural, slim, hair-like strokes. After applying, I blend it all together using the spoolie brush on the opposite end of the pencil.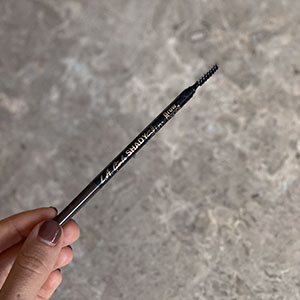 Step 5: Highlight, Contour, and Blush
I usually like to add highlighter to the tops of my brow and cheekbones and since we are feeling a bit festive, let's add some to the inner corners of our eyes to make them pop even more. There's nothing like a highlighted cheekbone and a lifted contour amping up your skin's radiance this holiday season.
I want to look naturally bronzed, blended, and "lit from within" without any heavy lines or streaks, so when I contour, I like to start off lightly and add more as I go. I avoid bronzers that have sparkle and glitter in them and opt for cream or matte powder bronzers to help shade. I like to start by buffing bronzer around the perimeter of the face and taking into consideration where the sun would naturally hit my face first. I pop it onto the top of the cheekbones and then buff and blend it out nicely moving in upward and outward motions.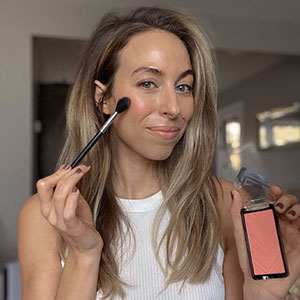 For blush, I smile to find the apples of my cheeks and sweep L.A. Girl's Just Blushing Powder onto my face using upward motions. Blush is a fantastic way to add extra radiance and glow to your face to instantly create brightness and warmth in your face. Make sure to softly blend really well with a light touch to avoid any harsh lines. This specific blush is super pigmented, which I love and is long-lasting, too. Just Peachy is a great shade for many skin tones.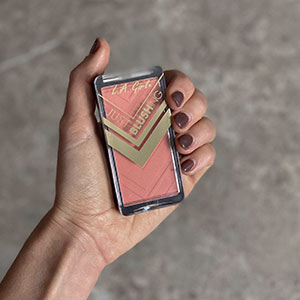 Step 6: Eyes
I don't personally love a bold, smokey eye on myself, but absolutely love a soft, highlighted, and contoured look with just the right amount of sparkle.
To get the look, blend a romantic matte peachy eyeshadow shade into your crease and then use a pigmented shimmery color all over the lids and blend a deeper brown onto the outer corners. Making circular motions with your brush will give you a great blend. When using the shimmer color, I like to spray the eyeshadow brush with setting spray for a more intense sparkle and hold.
I do enjoy a light contour to smoke out the under-eye area even when doing a natural look. Don't forget to finish your eyes by curling your lashes for an amplified lash lift and maybe even two coats of mascara for some extra drama.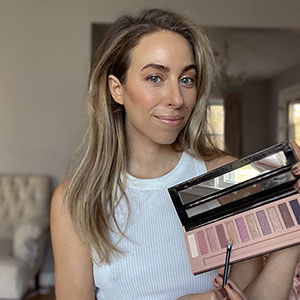 The L.A. Girl Beauty Brick Nudes Eyeshadow Palette is filled with eyeshadow shades that can be used for natural glam or to take the no-makeup makeup into full holiday look territory, with shades that are complimentary for every eye shape and color. Another reason why I love a peachy or golden swipe of shadow on the eyes is that it's fabulous for concealing under-eye circles by catching the light and illuminating your lids.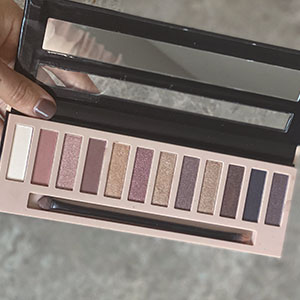 Step 7: Lips
Before starting my lips, I like to apply a lip balm to soften them. Then, I love to overline the lip area just a tiny amount for a fuller lip look without looking too overdone. I use a nude color, similar to my natural color, for this step. Make sure to blend it so the lines aren't too sharp and then top with a clear gloss. A sultry and glossy lip is the perfect look for any holiday party.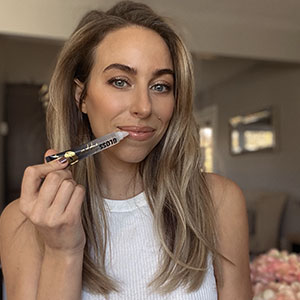 L.A. Girl's Gloss Topper is literally perfect for any pout and creates a glass-like shine with no stickiness! The formula even contains rosehip seed oil, vitamin E, and aloe vera to keep your lips not only glossy but super smooth.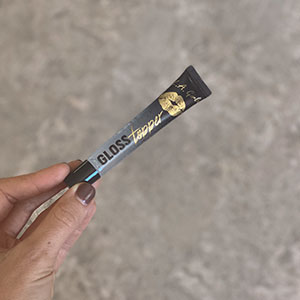 Hot tip: Exfoliate and moisturize your lips the night before or before you begin makeup to peel off any dead skin and ensure your lips are soft and not chapped or cracked.
Here's the finished holiday celebration look: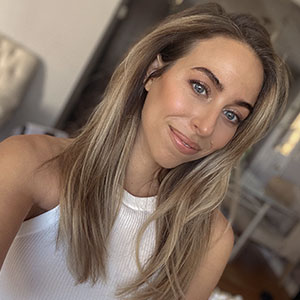 Step 8: Set
Remember to use a setting spray or powder to ensure that your makeup will last throughout the night and don't forget to wash your face before going to bed to keep your skin healthy and blemish-free. Happy Holidays!